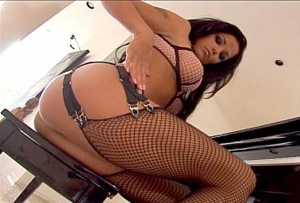 Lanny Barbi is perfect! Ok, maybe not perfect but pretty damn near it. Of course, you have to be a fan of hot brunettes with fake tits and stunning looks. Luckily I fit the bill.
But I'm not alone in my love for Lanny Barbi as she has quickly become a fan favorite and almost an overnight superstar. And while it's been said before about others, this time it's true. Lanny Barbi is too need to be doing hardcore gonzo shoots where anal sex and ass to mouths are a common denominator. She could make her money in just glamour modeling and whatnot.
So if Lanny Barbi doesn't need to do these kind of scenes, I guess she's just as depraved as they come and wants to be in these types of scenes. That my friend, is what makes Lanny Barbi perfect!
Lanny Barbi is Perfect
18 U.S.C. 2257 Statement can be found at: http://www.assfixation.com/2257.php