Facial & Cumshot Porn Free Pornsite Listings
A free pornsite consists of a warning page followed by two or more video or picture galleries.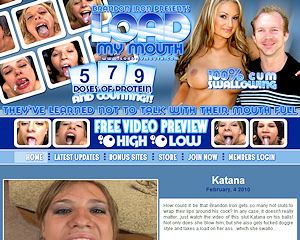 This Site is Part of: Brain Pass
I know this site is an older site and it's got an older style tour but don't judge this book by its' cover. Load My Mouth is still one of my favorite cumshot swallowing sites around, in part because it has been around a while so it's got a very good amount of exclusive content. This site picked a theme – one girl, one cumshot on the tongue, one swallow – and never strayed from that path. If you want to see POV videos of chicks sucking dick, sometimes fucking and swallowing a fat load of come then you need to check out Load My Mouth...
see the full review here
Recommended Free Pornsites
No sites were found
Current Listing of Free Pornsites
Sperm On Tongue - 24 pics - Blonde teen get fucked and letting her lover empty his load all over her tongue.